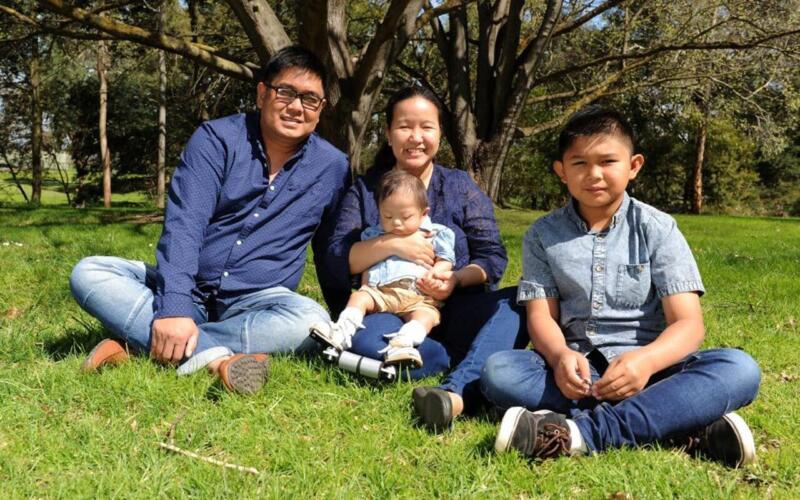 Originally published on 9 October, 2017 in the La Trobe Valley Express.
Forty-four-year-old Traralgon mother Cher Jimenez* said everything happened in one year.
Last year, she, her husband Romano Cayabyab and her step-son Sam moved from an apartment to a house and after three months of trying, she became pregnant with Nathaniel.
"I would call him our miracle boy, because he's an answered prayer," Ms Jimenez said.
A baby was on Ms Jimenez's annual list of faith goals 10 things she believes will happen that year after years of helping take care of her 14 nieces and nephews in the Philippines.
"So all my life I believed one day I'm going to hold my own baby," Ms Jimenez said.
She said the stress of moving while still working made it a challenging pregnancy, yet when the results for a first trimester screening returned, she and Romano "felt the world crumble" before them.
"We were told … there's a huge possibility that Nathan is a Down syndrome case," Ms Jimenez said.
The thought, 'what's going to happen to my baby?' filled her mind.
Health professionals spoke to the couple about their options, which included advanced testing, and termination of the pregnancy.
"We said 'no', right then and there," Ms Jimenez said.
Nathan was born on 11 December last year.
"He was put to the nursery because they said … he's going to be checked for Down syndrome and until that time we were still holding on, that he is OK," Ms Jimenez said.
Three or four days later she was alone in the hospital room when the doctor returned with the positive results for Down syndrome.
"I was in shock," Ms Jimenez said.
When the doctor asked if she was OK, Ms Jimenez said that was when it dawned on her she wasn't.
"I said, 'of course not' and then I started to cry, and she cried with me," she said.
Ms Jimenez's first response was the desire to be alone, to cry, and concerns for her son's future overwhelmed her.
"My mind raced through the future; 'is he going to have kids, is he going to work, is he going to speak, or can he do stuff like, you know, what other kids do?'" Ms Jimenez said.
"I was just full of fear."
Ms Jimenez said after the news, she didn't feel like going into the nursery and breastfeeding until her thoughts calmed.
"I told myself … he needs me right now more than I need to, you know, just be by myself and wallow in my grief," she said.
After joining a Noah's Ark support group for parents with a child with Down syndrome, Ms Jimenez realised her fear was a common experience.
Surprises replaced the shock as Nathan starting conquering milestones.
"[Nathan] rolled over on his back … when he was five weeks [old] and the paediatrician said he's not supposed to do that, because even kids without Down syndrome, they do that at four months," Ms Jimenez said.
"He's been doing really great; he's feeding, he's talking, he's moving a lot, even when he was born with clubfoot, and even with these special shoes on, he's moving, you know, like a regular kid," Ms Jimenez said.
One of her wishes for Nathan is for him to be raised as an independent person, which she is encouraging through early childhood intervention services such as occupational therapy and speech pathology, and she tells him highly positive sentiments every day.
Ms Jimenez wants to encourage other parents they don't have to do it alone, yet she can empathise with the urge to refuse support, particularly in the early days.
"I was telling everyone I could handle this … but there are nights when Nathan and I are left to ourselves and I would just be emotional," Ms Jimenez said.
"There's support out there and there's nothing to fear because really the joy they give you, the immeasurable joy they give you, is more than the fear."
She said she would never let Down syndrome define her son.
"Always remember it's not about you, it's about this child, this child that you wanted so much," Ms Jimenez said.
For more information on Noah's Ark's support group Parent to Parent Gippsland, phone 1800 010 453.
October is Down Syndrome Awareness Month.
*Cher Jimenez is a journalist at The Express.